THE OREGON TERRITORY AND ITS PIONEERS
Recipient of the 1998 American Local History Network Award for Preservation of Oregon History
Recipient of the 2005 Distinguished Service Award presented by OCTA for contribution to Trail Preservation
Recipient of the 2014 Education Award presented by the Willamette Heritage Center
Researched and Compiled by
Stephenie Flora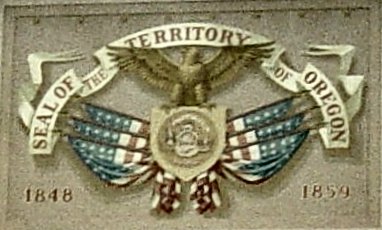 Welcome to Oregon! This site was started in 1989 and is an ongoing project that focuses on the pioneers of the Oregon Territory up to and including 1855. I welcome any additional information you may want to contribute on an ancestor and will list as a researcher anyone interested in a particular family.
As you will note, the page is broken down into 4 sections. The first section is called THE SETTLING OF OREGON. This section contains the history and background of the Oregon Territory The second section, THE JOURNEY, contains information on preparing for the journey and information on the trail.The third section contains EMIGRANT LISTS and is a compilation of information [including pioneer lists by year of emigration] extracted from a variety of sources. The fourth section is devoted to RESEARCHING THE PIONEERS and provides links to research and historic sites that may be of interest.
If you have a pioneer ancestor that came to the Oregon Territory prior to Feb 14, 1859, you might want to consider joining Sons and Daughters of Oregon Pioneers. It is one way of helping to preserve the Oregon Territory's pioneer history. To learn more about the trails west and to help with their preservation, visit the Oregon California Trail Association website.
Join Us On Facebook